Exertis förvärvar Corepixel - utvidgar med nya affärsområdet Security
Wednesday 10th November 2021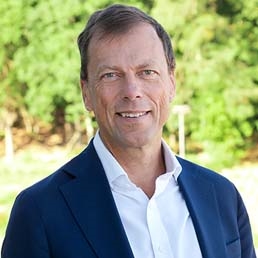 Christer Svärd, MD of Exertis in the Nordic region
PRESSRELEASE 2021-11-10
Exertis acquires Corepixel and expands with the new Security business area Corepixel, one of Sweden's leading distributors in security and camera surveillance systems, is now part of Exertis. The acquisition is part of the Nordic initiative exertis is making in the area and Corepixel and its staff will now be the backbone of the newly started Security business area. Safety and monitoring are high within Exertis in Europe and the Nordic region has been looking for a natural partner for an increased focus in the area for a long time. The choice fell on Gothenburg-based Corepixel, which, like Exertis, works to simplify customers' everyday lives to become a joint success. Their successful concept has been to give customers access to experts and local skills of well-trained professionals. They collaborate with a network of technology partners and can thus deliver a ready-made solution that meets the customer's needs with integrated software and systems to achieve each organization's individual goals in camera surveillance. "
We are very pleased that this deal is now complete. Corepixel's product range and knowledge is exactly what we have been looking for for our continued Nordic expansion, and the way they work with high competence and the customer in focus is in line with how we do business today so we know that the synergies will be many. We are really looking forward to getting started and working on the new opportunities this gives us
." says Christer Svärd, MD of Exertis in the Nordic region. The strong Corepixel brand will live on and will now become Exertis Corepixel. Existing customers will recognize themselves in the range that falls under their own area, but at the same time get access to Exerti's wide range of IT and AV products. The voices within the company will also be the same as all corepixel's competent staff will be transferred to Exertis' Nordic headquarters. "
Our decision to do this deal with Exertis is about our desire to reach a larger market than today and the desire to become a leader in the Nordic region. Exertis as a company do business in the same way as us with a lot of value add in each area to give customers more than just someone who moves boxes. With Exertis' expertise and logistics at the forefront, we know that this also gives our customers even better conditions, which is important for us.
" says Johan Rosdahl, MD of Corepixel. The transition is expected to be completed as early as the end of next year and exerti's existing customers will also have access to the new products in the range.
About Corepixel
Corepixel is one of the nordic region's leading distributors of camera surveillance. They offer monitoring solutions for most industries. Together with their manufacturers, they offer mobile applications for emergency vehicles, solutions for trains, perimeter protection for airports and logistics centers, fire detection, cloud solutions and much more. The business is headquartered in Gothenburg.
About Exertis Nordics
Exertis Nordics is one of the largest distributors of IT hardware, AV products, Entertainment (film, books, games & toys) and one of the largest PC producers in the Nordic region. The business is headquartered in Gothenburg with branch offices in Stockholm, Helsingborg and Umeå in Sweden, Sandefjord in Norway, Helsinki and Tampere in Finland and Copenhagen in Denmark. The company currently collaborates with over 250 suppliers and more than 4,000 retailers across the Nordic region. Since 2014, the company has been part of exertis group, one of Europe's largest distributors with a turnover of almost SEK 50 billion.
Sveriges största branschmässa för återförsäljare.
9 november, Eriksbergshallen Göteborg.
Läs mer
Exertis stöttar CBRE & PLAN i Sierra Leone
Se filmen om seglingen som samlade in pengar för att hjälpa 135 000 barn.